/brushes off dust/
Uh, hi guys! I know it's been a while since I last posted. =x I dropped a class or two which freed up enough lunch time that I haven't had to pack anything in ages. I've still been cooking though, so I figured I'd post a quick recipe for a hijiki-edamame side dish I made earlier for dinner 8D
A little history about hijiki and me. I first read about hijiki when
justhungry
posted up her
introduction to seaweed
. It looked and sounded intriguing, but I wasn't quite sold on if it would be worth it to buy some. I've learned to curb my buy-it-to-try-it tendencies a bit, especially since I'll be moving soon (don't want to have to deal with too many foodstuffs during packing).
I finally got to try it a few weeks back when my roommates and I ate at
O Chamé
, and it was absolutely delicious! Totally worth buying a pack and trying out at home.
That hurdle cleared, I was ready to push up my sleeves, dig out an apron and begin battle hijiki. But, I have to admit to you guys, hunting it down was a bit tricky, and that's said by someone who has a lot of Asian ingredient resources. I tried 99 Ranch first, but to no immediate avail. Safeway was obviously not going to happen, and my first few trips to Berkeley Bowl left me bereft as well. Hijiki craving hit its peak earlier today, and out of desperation, I tried Berkeley Bowl again. After asking a stockman there, I finally unearthed it on a side display a bit removed from the rest of the Japanese foods (btw, Berkeley Bowl carries Benkyodo mochi too! I'm convinced that place carries everything under the sun).
After purchasing it, I was struck by the fact that I didn't really know of many recipes to use it in. O Chamé had made a simple garnish with it, and it tasted as if it had been stewed in soy sauce and dashi for a while. I wanted my hijiki dish to be a little more substantial than that though, especially since I wasn't planning on making many other dishes to eat with dinner. Justhungry had made a pasta with it, and offered up a furikake recipe, and while both dishes sound delicious, they just weren't what I was in the mood for.
I decided to wing it.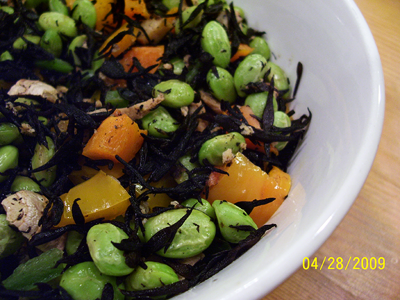 hijiki stir fry/salad
(it's not really stir fried, but it's not really a salad either. I'm at a loss for how to describe it lol)
(
recipe
Collapse
)